Banking Kiosk
Introduction

Banking Kiosk is a self-service terminal which integrates hardware and software to create an interactive environment. This new technology brings users numerous benefits, including ease of access, reduced transaction time, access to information and the ability to perform multiple transactions. For example, multimedia (videos, photos, articles and music) kiosk enables users to reach sale and public information; Furthermore, It may allows users to perform on-line transaction by entering a public utility bill account number or withdraw cash in exchange for merchandise. Some kiosks also include bill and coin depositors, card readers, thermal printers for ticket and receipt, and other more complex devices to meet the demand of specific application.
Related Products
Industrial Touch Panel Computers
Axiomtek's PANEL1000 series is the industrial panel computers which adopt Intel® Core™2 Duo, Pentium® M, Pentium® 4 processors for high computing capability to satisfy customer's demands. Features include front accessible USB ports, a back door design for easy maintenance and upgrade, SAW (Source Acoustic Wave) touch screens and most O.S. support.
Industrial Touch Monitors
Axiomtek's PANEL6000 series features multiple mounting methods for various industrial harsh environments. It also provides monitor sizes of 10.4", 12.1", 15", 17" and 19", and supports high brightness TFT LCD's, waterproof & dust-proof front panels, light duty aluminum panels & chassis. In order to provide more flexible configurations, the open frame design is also available.

Embedded Systems
Axiomtek's eBOX series offers abundant features to satisfy harsh environments with fanless & noiseless operation, extremely compact design, patent of anti-vibration, anti-shock design, and most embedded OS support. It's suitable for applications like POS, Kiosk, ATM, building automation, thin servers, diskless workstations, project screens, tour bus displays and more.


Application Diagram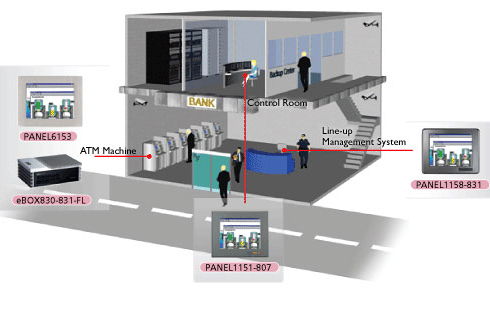 Banking Kiosk