Digital Signage Solution
Introduction
Digital signage is more prevalent and diversified than ever before in public and private sectors with nonstop operation. Digital signage could be seen in supermarkets, restaurants, transportation centers, retail stores, medical buildings and many more. Axiomtek's total digital signage solution is an excellent platform to manage and broadcast visual and audio content effectively to provide visitors with information, entertainment and a variety of other content. Axiomtek offers three product series of digital signage solution, ensuring that your application need can be met.
| | |
| --- | --- |
| | Axiomtek's Digital Signage Application |
Related Products
OPS Compliant Digital Signage System
Intel's Open Pluggable Specification (OPS) aims at providing greater interoperability while addressing fragmentation in the digital signage industry. The OFP320 and OPS860 are compliant with Intel OPS design and development, allowing simplified system upgrade and maintenance for manufacturers and developers.
DSA Series - All-in-one Digital Signage Solution
Axiomtek's DSA series is an all-in-one digital signage solution with a pluggable engine box for easy maintenance. Having the ability to simply slot-in/out the pluggable module means cost savings when upgrades are needed since the CPU, DRAM, and HDD are all be easily accessible. Having the advantage of modularity and scalability, this series is perfect for system deployment and efficient maintenance. The DSA series combines Intel® Core™2 Duo processor with GM45 chipset and full high definition LCD (1920 x 1080P) to deliver high quality graphics without system lag.

DSH Series - IP30 Dust-proof Digital Signage Solution
In addition to the features mentioned above for the DSA series, Axiomtek's DSH series has an enclosure that is mechanically designed to keep dust from entering the system. An IP30-rated full enclosure prevents CPU fan from jamming due to dust collection in severe operating condition.

Digital Signage Engine Box
The all-in-one network control box for digital signage application supports AUO 46", 42" and 32" 1920 x 1080p full HD LCD. For easy implementation, Axiomtek introduces the unique module architecture of pluggable CPU board to enhance system reliability and scalability. Furthermore, this new solution highlights the VESA FPMPMI compliant flat panel mounting for suspension mounting which is ideal for public environments.
Application Diagram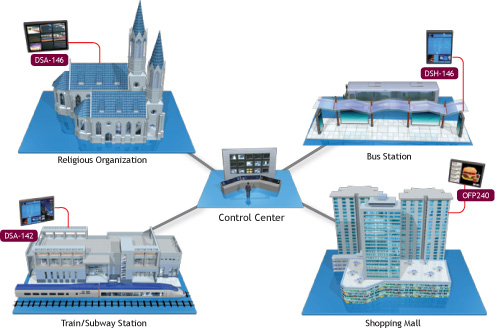 Digital Signage Solution