Infotainment
Introduction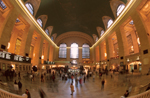 In order to maximize return on the cost of advertisements, shopping center operators are taking advantage of interactive infotainment systems to broadcast digital content. Through this new marketing communication approach, operators can extend their target audience reach by making the content delivery more accurate and real-time. Axiomtek presents a wide range of solutions to fulfill these diverse demands.
Related Products
DSA Series - All-in-one Digital Signage Solution
The DSA series is available with large LCD sizes of 32", 42" and 46". It combines Intel® Core™2 Duo processor with full high definition LCD technology (1920 x 1080P). Shoppers will be amazed at the brightness and clarity displayed on Axiomtek's solutions.
DSH Series - IP30 Dust-proof Digital Signage Solution
In addition to the features mentioned above for DSA series, the DSH series includes an IP30-rated seal with advanced mechanical design which keeps the dust from penetrating the unit. No longer will the retailer be subject to overheating due to fan failures caused by trapped dust particals. The DSH series supports Intel® Core™2 Duo processor and full high definition LCD (1920 x 1080P).
GOT-5000 Series Interactive Touch Panel Computer
The GOT-5000 series integrates ultra light, super slim ID design with fanless Intel® Atom™ processor N270 or AMD LX800 processor. Its small footprint allows for the unit to be easily mounted onto shelves or to be used in any confined space to catch shoppers' attention. This unit is ideal for advertising specific commodity.
IFO Series Water-proof Touch Panel Computer
The IFO series is best suited for desktop infotainment system which adopts LCD sizes from 15" to 22". With the unique IPX1 design, it can protect entire system from water drip damages. The anti-scratch touchscreen is also equipped to ensure operation reliability.
Application Diagram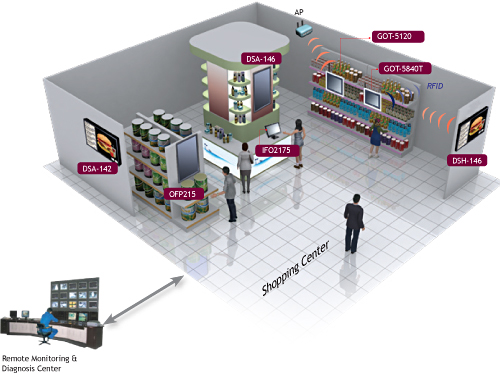 Infotainment