Intelligent Computing and Communication Solutions (rBOX + AXView)
Introduction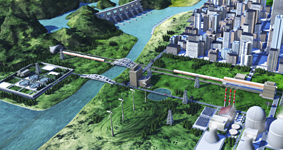 The rBOX DIN-rail fanless embedded systems are suitable for intelligent computing and communication solutions in critical environments, such as power plant automation, facility monitoring systems, and intelligent transportation systems. Built for rugged environments, the rBOX series supports extended temperature range of -40°C to +70°C for use in extreme operating environments, meets Safety Agency requirements and has passed heavy industrial EMI/EMS testing. Front accessible I/O cabling is convenient for wiring and maintenance.
Advanced Features:
Fanless operation
Robust industrial-grade hardware design
x86 architecture supported
Flexible I/O expansions
-40°C to +70°C wide temperature range
Compact size with DIN-rail mounting
Supports DIO, PoE, Can bus, and Isolated COM
Redundant power inputs with power failure alarm
Meets Safety Agency requirements and complies with EMI/EMS
Linux, Windows® CE or Windows® XP embedded supported
AXView Monitoring Software Package
To streamline implementation of management applications, Axiomtek has launch 'AXView 2010' packages for customers to build their own unique management systems easily and quickly. By importing private MIB, Axiomtek platforms with AXView could be easily integrated into standard SNMP-based management systems. Based on standard SNMP protocols, AXView contains a variety of easy-to-use management utilities, agent services and libraries.
Four Major Modules:
Libraries (DLL)
Local Monitoring (CPU clock, FAN speed, thermal, WDT, case open, current working voltages, H.D.D.(S.M.A.R.T.), hibernation...etc.)
Remote Monitoring (FAN speed, thermal, WDT, case open, working voltages, H.D.D. (S.M.A.R.T.), hibernation, settings... etc.)
C/C++,C#... etc.
Management Utilities
Local monitoring
Remote monitoring Agent
On-line monitoring system

Overheating
Fan stop
Case open
LAN drop
Working voltage beyond pre-defined normal range
USB devices changed

Fire alarm by sending (SNMP trap & email)
Private MIB
Easily integrates into well-known SNMP management systems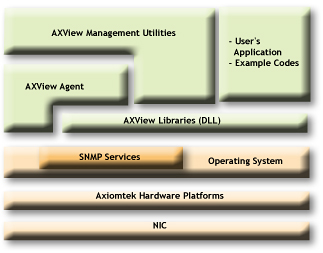 Application Diagram